One big family
There are 15 National Parks in the United Kingdom and each one is looked after by its own authority. We work together as National Parks UK.
There are 10 National Parks in England, 3 in Wales and 2 in Scotland, they are:
England - Broads, Dartmoor, Exmoor, Lake District, New Forest, Northumberland, North York Moors, Peak District, Yorkshire Dales, and South Downs.
Wales - Brecon Beacons, Pembrokeshire Coast, and Snowdonia
Scotland - Cairngorms and Loch Lomond & the Trossachs.
Not ours - but ours to look after
Each National Park is administered by its own authority, but that authority does not own all of the land within the Park. They are independent bodies funded by central government to: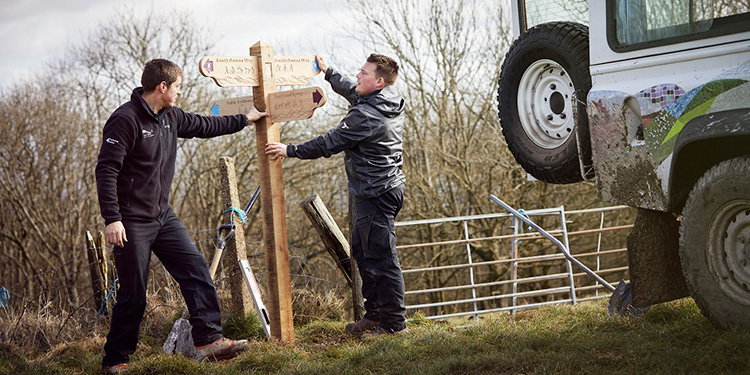 Conserve and enhance the natural beauty, wildlife and cultural heritage.
Promote opportunities for the understanding and enjoyment of the special qualities of national parks by the public.
In carrying out these aims, National Park Authorities are also required to seek to foster the economic and social well-being of local communities within the national park.
In the case of the Broads there is a third purpose, namely protecting the interests of navigation, and all three purposes are given equal priority.
For the Scottish parks there are four aims for the area:
To conserve and enhance the natural and cultural heritage of the area.
To promote sustainable use of the natural resources of the area.
To promote understanding and enjoyment (including enjoyment in the form of recreation) of the special qualities of the area by the public.
To promote sustainable economic and social development of the area's communities.
With the exception of the Broads National Park, if there's a conflict between a park's purposes, greater weight has to be given to the first purpose.
See the looking after section to find out how we work to conserve and promote enjoyment in the national parks
Elected members and staff
Each National Park Authority has a number of unpaid appointed members, selected by the Secretary of State, local councils and parish councils. The role of members is to provide leadership, scrutiny and direction for the National Park Authority.
There are also a number of paid staff who carry out the work necessary to run the national park. Our working for us section shows the diverse types of jobs national park staff do, from rangers and ecologists to planners and education teams.
National Parks UK
National Parks UK brings together the 15 National Park Authorities in the UK to raise the profile of the National Parks and to promote joint working. Country associations for the English and Welsh national parks represent the national park authorities to English and Welsh governments.
Advised by the 15 National Park Authority chief executives, the chairmen and convenors of the 15 National Park Authorities work together to share experience and manage joint training projects, public relations activities and special events.
National Parks UK employs three members of staff and secondees from the National Parks to work on projects as required.
National Parks UK is not a lobbying body, nor does it seek to speak on behalf of the family of 15 National Parks. Its key roles include:
Engaging with the public and answering queries about National Parks as a group
Promoting the National Parks as special places
National Parks UK also:
Promotes the 15 National Parks in the UK as beacons for sustainable development
Helps raise their profile and deepen the public's understanding and relevance of these protected landscapes
Facilitates training and development for National Park Authority members and staff
Fosters closer working with the growing international family of protected landscapes
Contact National Parks UK:
Email: pressoffice@nationalparks.uk

Yare House
62-64 Thorpe Rd
Norwich
NR1 1RY