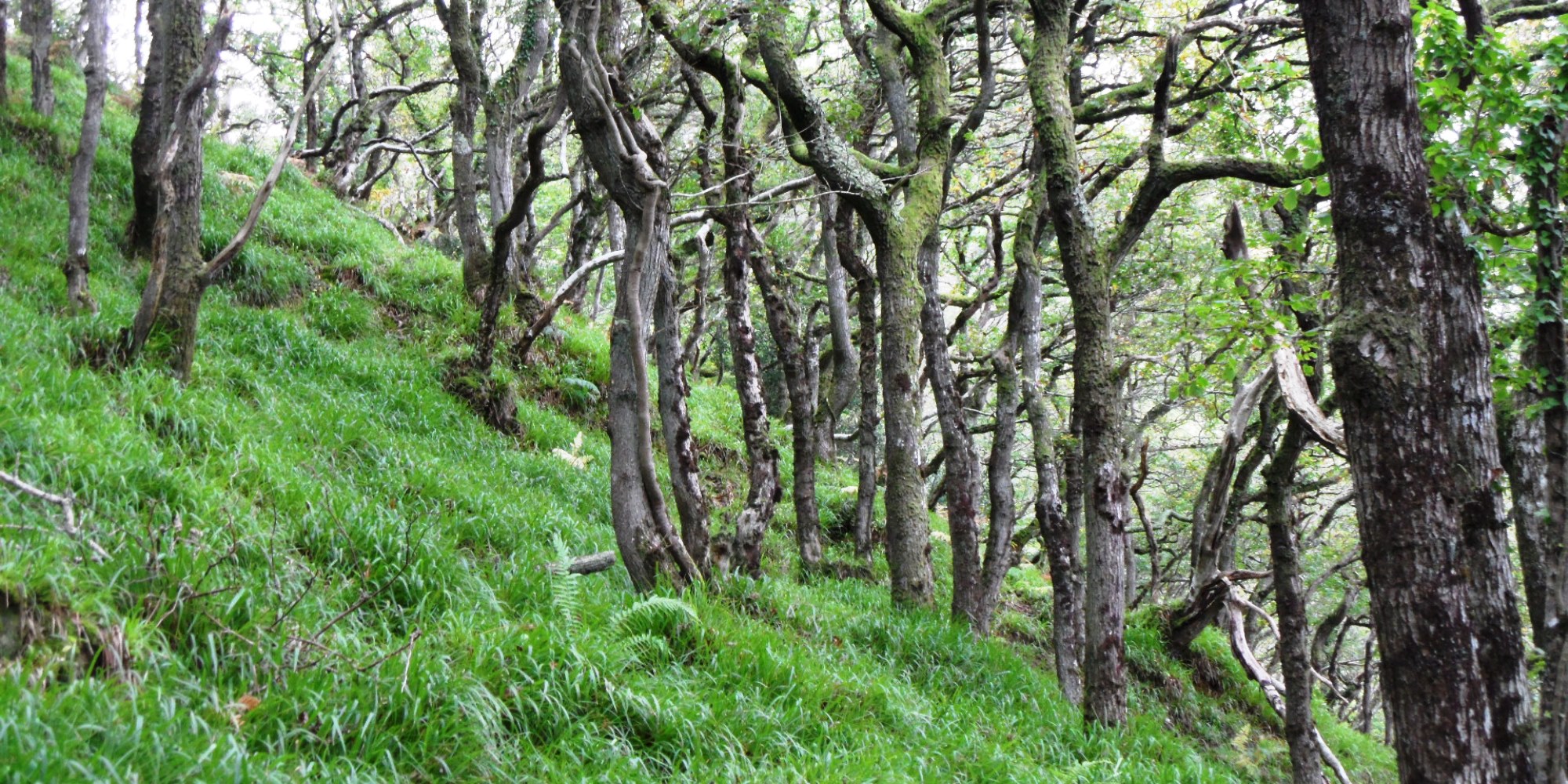 Woodlands have more biodiversity than any other habitat in Britain. Trees are home to a huge number of other plants, insects, fungi, mosses, lichens, birds and small animals, which all provide food for other animals higher up the food chain.
Protecting our woods is a great way to protect wildlife. So, why do we sometimes encourage people to clear certain trees? And how can a Scout groups and two abseilers help?
Chopping down the coppice
Coppices are a type of woodland where regularly cutting down the trees can help protect wildlife. Trees like Hazel are grown, then cut down to a stump. Afterward, a number of long straight stems grow up from the stump, which are perfect to use as timber. The stems get cut down and the process starts again. Trees have been coppiced like this in Britain for at least 4,000 years.
Because the cutting is done on small patches of trees in a rotation, there is always a mixture of young, thin stems which allow light through to the floor, and old, thick stems that offer more shade. This makes coppices two habitats rolled into one.
Freeholders Wood in the Yorkshire Dales National Park is a hazel coppice. Under the young stems are light-loving plants like Wood Aven's, Lady's Mantle, Wild Strawberries, Bluebells and Dog Violets. Under the older stems Dog's mercury and Wood Anenome's grow in the shade. This mix of plants provides food for birds like Nuthatches, Treecreepers, Blackcaps, Chiffchaffs and Songthrush. Dormice also live in hazel coppices, because they can make a nest in the mature trees and get lots of their favourite food - hazelnuts.
Freeholders Wood is such a special habitat, that we made it a Local Nature Reserve, so local people can enjoy and help us protect it.
10,200 trees, 3 new woods and lots of helping hands
The Lake District was covered in woodland after the last ice age, but grazing the land with sheep and cows means most of the fells today are grassy and treeless. Upland woodland is an important habitat that gives many species a place to shelter and find food, even if they spend most of their time living outside the woods.
As part of a project to increase biodiversity, we have planted three new upland woodlands in Lake District National Park.
Even though the trees are little, planting new woods is a big job. Dozens of volunteers, rangers, staff and a local Scout club all helped out to dig holes, plant a tree, put in a stake and put up a guard. They did this more than 10,000 times across 18 hectares of hillside. We even called in two expert abseilers to help plant trees on the very steep slopes!
We analysed the soil conditions and planted different trees in different places where they will grow best;
Rowan and Downy Birch on steep sides of mountain streams
Ash and Alder on flat, wet areas of ground
Oak and hazel on grassy banks of streams
Juniper, Hawthorn and Blackthorn around the edges of the woods
We've put fences around our new woods to keep out grazing animals and over the next few years we will be checking for damage to the fences and the tree guards.
We will replant any trees that die and we'll clear any other plants growing around the trees to stop the trees getting swamped by other vegetation.
All the people who helped plant the trees know that they won't see them fully grown - that could take 100 years - but they know that they've been an important part of changing this bit of landscape, hopefully for centuries to come.